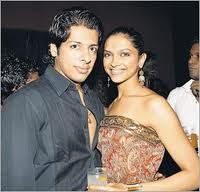 This is for publicity or revenge is the question many will have from nihar pandva on the latest step which he is moving forward for.
He has come out of his shackles and making an effort to get a peep in the inside story of his break up with the famous celebrity Deepika Padukone. Nihar is very clear on his idea that this breakup will help him become a good actor. But it will affect Deepika which is not his concern.
He gets his inspiration from the movie rockstart, when he realizes not to sit quite after the pain he faced after the breakup. No pain No gain, what Ranbir says in the movie is his tag line for this inspiration. He wants to take this failure as the reason behind his future foreseen success.
Working with his friend Prashant Chadha as the director of the movie based on his life will also be shot at Anupam kher's acting school where their love story started.
The efforts are clear to gain success from stepping on the celebrity's success. Though Deepika has her own stand and followers, which are a screen for her and such acts, will not affect her. But this coming up story of the new release could be given a better base for success.