Stella Mc. Cartney is the proud holder of the title ""Designer of the year 2012" by the BFA (British Fashion Awards) She is a London based Fashion Designer who had a great passion towards fashion from her infancy and has undergone her graduation in the same at Central Saint Martin's College of Art & Design. In the year 1995, her graduation collected was sold to a London Boutique, after which she initiated her career at Paris Fashion House Chloe as a Creative Director.
Apart from making her own labels for wardrobes, she also instigated fragrances, skin care, and lingerie space and during 2010 she introduced Kids collection for children up to age 12 and coupled with Adidas Sportswear line.
She has acquired many awards and the most perceptible are Glamour Award for Best Designer of 2004, Organic Style Woman of the Year 2005, Elle Style Award for Best designer of the year 2007, Best Designer of the Year at British Style Award 2007, Best Designer of the Year at Spanish Elle 2008, Green Designer of the Year at the ACE award 2008 and Red Carpet Award by British Fashion Council. She was also recognized as Glamour magazine Women of the Year 2009.
This great fashion designer is referred as a "Fashion Vegetarian" i.e. 'no animal policy' in her wardrobes and a great supporter of   PETA( People for the Ethical Treatment of Animals).
Here are some displays from her 2012 collections.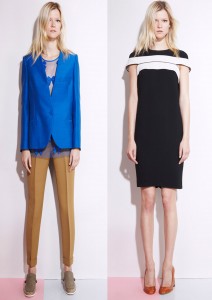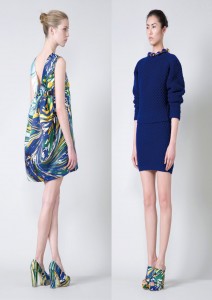 "Any designer can do SOMETHING. A great designer does the RIGHT thing." – the quote which exactly says about STELLA MC CARTNEY beacuse she does the right thing….