Tanya, an alumnus of NIFT Mumbai, gained her inspirations from Indian culture, vibrant colors and earthy core for her designs. Her innovation is dynamic and lively combinations of Indian textiles, needlework and contemporary styles which carried her to a unique style.
Tanya launched her label "Gaga" in 2009. The main aim of Gaga is to spread the message of lovely and happiness through lively spirit of color.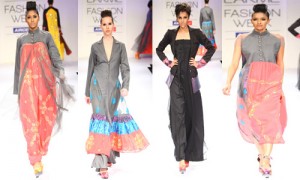 Tanya classic collection was a stylish offering at Lakme Fashion week winter/festive 2012. The designer merged the men's street wear and traditional ethnic wear and created a different look for women's wear by the inspiration of achkan and tuxedo. Net was a constant material used in all the garments. Use of vibrant colors like yellow, orange, blue and earthy tones can be seen in her innovation.