Paris Hilton, the hotel heiress and international celebrity is in India for the launch of her stores and new PH handbag line, in Mumbai.
The socialite who is in the country for a three day trip was overwhelmed by the turnout in the 'Inorbit Mall' in Malad, a northern suburb of Mumbai where she set about the launch for the line of handbags.
She was greeted by hundreds of fans at the launch who were there to see her line of handbags and her as well. "Wow! Thousands and thousands of people here at Inorbit Mall for my PH purse launch! Love my fans in India. What an amazing turnout…Everyone is so friendly and sweet," Paris tweeted.
The 30 year old heiress was brought down to India by Brand Concepts Pvt Ltd, was seen sporting a blue dress by Monisha Jaisingh and she was seen signing autographs and smiling for pictures with many of her fans. She also signed bags for a lucky few.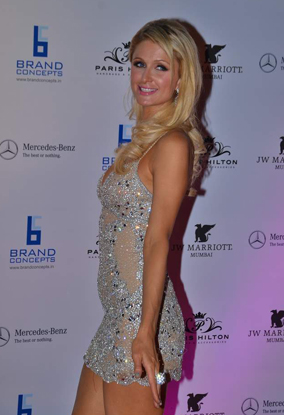 Keep it up PH! Looks like we might be seeing you in India again soon!