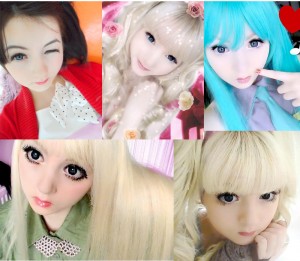 This is Venus, a 15 year old pop star model who dresses as a living doll. At present she is the Internet cult sensation because she resembles a living doll with huge eyes, porcelain skin and white-blonde hair.
Her white make up and powder makes her get a porcelain skin tone and the doll like eyes which are striking, are by the usage of speckled brown contact lenses and also fake lashes.
She opts for pastel colored clothes and is often seen in twee dress designs suited to toddlers.
This cute famous girl is becoming very famous nowadays by gaining enormous popularity on the Internet for her YouTube tutorials on how to look like a living doll. She is living like a doll for the past two years and she has posted more than 100 videos in the YouTube. She teaches the viewers how to use cosmetics to transform into a doll, by uploading her popular videos for make-up tutorials.