You are currently browsing the Fashion Events blog archives for June, 2013.
Categories
Archives
June 25th, 2013
Manish Malhotra showcased his latest Mijwan collection at the Wills India Fashion Week Spring/Summer 2013.  Mijwan is a small village near Azamgarh, Uttar Pradesh. His collection comprised of the traditional and popular  embroidery work, Chikankari, which was executed by girls from Mijwan.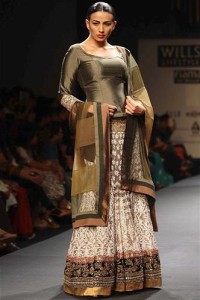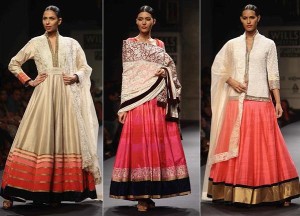 He is a well-known designer and fashion expert who has the ability to visualize the look of a character. He has designed for many Bollywood celebrities. He has also had an opportunity to design legendary Michael Jackson's clothes when he visited India for some show. On this occasion, Bollywood actress, Parineeti Chopra, sizzled the ramp with her stunning look. Also the show was supported by one of the famous social activist and actress Shabana Azmi's Mijwan Welfare Soceity(MWS).
June 17th, 2013
Purvi Doshi, who has recently won "Young Achievers Award" by Grazia Magazine for reinventing old crafts in a contemporary style was the designer at Lakme Fashion Week 2013 held on March 23 at Mumbai presented her collection "Sanrakhshan" (Conservation) representing  'Save The Endangered Species'. Through her collection, she wanted to make people aware of the importance of the forests and the endangered species.
Below are some of her excellent creation of print depicting forest with endangered species.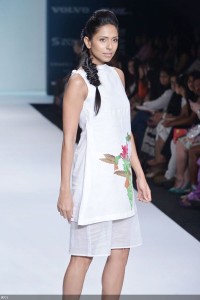 Hazel Keech, a British-Indian actress, came into Bollywood through her debut blockbuster 'Bodyguard', was the showstopper for the first time. She did a great job with her brain by supporting the designers.
On this occasion, Hazel uttered, "It's been an amazing experience walking as a Showstopper at Lakme Fashion Week for the first time. I'm glad to be a part of spreading the message of 'Save the Endangered Species' along with Purvi. The Purvi Doshi creation is elegant as well as fun, which is what my personal style is all about. I hope to be part of LFW again."
June 14th, 2013
One of the happening fashion event "Ekru" was held at Wills Lifestyle India Fashion Week Autumn Winter 2013 where the two well known fashion designers of the industry, Ekta and Ruchira,  showcased their talents.Models hit the ramp with exclusive flamboyant outfits personifying attitude in what you wear.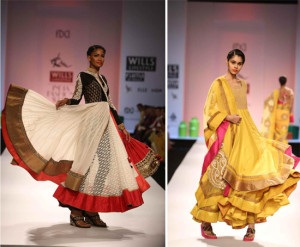 The show yielded a great success like anytime for the designers and the models. The fabrics and embroideries like Matka for Bihar, Chanderi from MP, chiffons and woven yardages along with borders from Banaras were on top throughout the show.