The sweet and spicy year, 2012.. The runway goes hot and spicy unlike before with just solid and flower print stuffs.
This time, it was prints enriched with fruits and vegetables. its awesome to visualize me with fruity cocktail dresses also their scenting perfume when i wear one.
The exhibit of tiny waists in corset crop tops teamed with tulip shaped midi-skirts made the summer pallet goes dynamic.
The fifties returned teens with pretty midi-dresses adorned with colourful foods and vintage style brooches.
The runway Feminine and flirty pieces are made a rally and the ladies will get to play dress up by putting together mixed up with ladylike heels and playful accessories.
Kate Moss attracted the show at Louis Vuitton's SS12 runway shoe sporting a girly white lace and feathered dress, a cutesy hair band and ladylike shoes.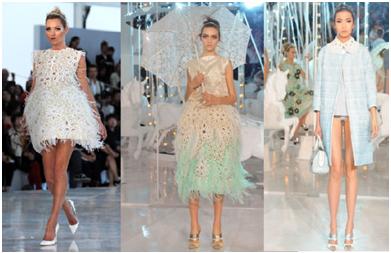 River Island has a new eye catching collection with trendy sleeves with embellished corset and pencil skirt set that clutches the sexy silhouettes viewed on the runway. People go high to look high class.
Bloomers during these earlier days are not meant to be worn by grans, patterned bloomer shorts are coupled with matching corset tops and tough accessories for perfect looks
With accessories wicker basket handbags and pasta shape accessories look glamorous.
Fashion for 2012 is hedonistic to the majority. So don't panic to encounter all your favourite looks instantly.