Once upon a time, when we were back in school there was a time we just had radio and televisions and today all kids have facebook, twitter and want to dress up! The times have changed and quite fast in this day and age. In the fashion industry too we can see a major change happening and many brands and designers have opted to use kids aged 10 onwards to be spoke models and faces of their respective brands.
There are many brands like Jours Apres Lunes which are a French Lingerie brand and they have come up with lingerie for kids from the age of 4 – 12 years. They are proud to say that they are the first brand to be dedicated to make designer lingerie for children and teenagers, their products comprises of loungewear and lingerie to be worn over and under. These kids are being exposed to everything online and they don't even know the meaning of the word nor can they pronounce but they want to wear it as it will match with the one their mother has.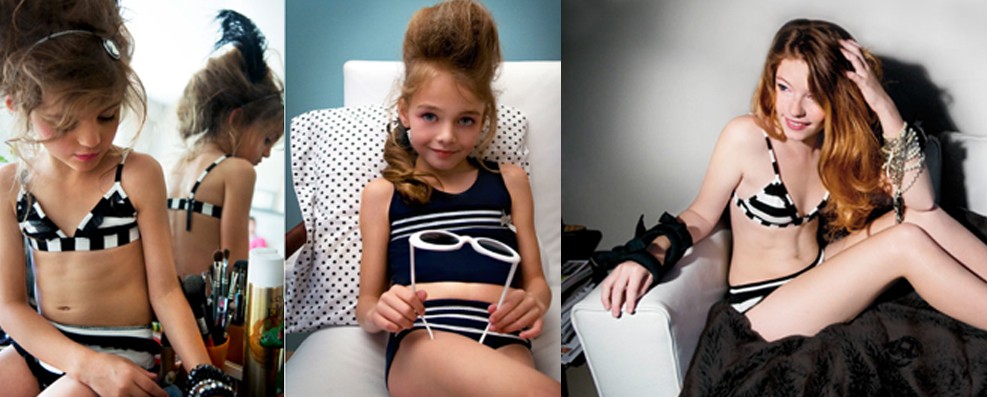 Another scenario was the Vogue Fashion shoot which had a 10 year old model sprawled provocatively on leopard print covers with heavy make-up and gold stilettos. The set up and layout is nothing new to the fashion magazine except the fact that they used a 10 year old! These shocking images of the French child model have sought major media attention.
Thankfully these kids are made to understand the procedures and their parents are with them through out, but does the designers really understand the seriousness. It's very hard to understand since the competition is increasing. But I think we all will agree that they cannot play with a kid's life. Kids wearing lingerie can even prove out to be a threat to their life in near future. Once should think about that the next time!