She began her career in the field of fashion 10 years ago when she left to New York City to couple with the design team of Moschino, Jean Paul Guteiler and Alberta Ferrett
When her family situation brought her back to Washington DC, she started her work with Vera Wang, and was further hired to Priscilla of Boston.
As soon she attained success in the local, she was courted to Saks Fifth Avenue in Tyson's Corner to lead the bridal salon.
Carine's position at DC salons paved way for her to interface with the design community in NYC
Usually the fashion industry gathers twice a year in bridal fashion week which has fashion shows, runways, models and designer parties will be presented in the fashion week. She attended all and selected wedding dresses off of the runway to carry in the store.
Carine felt that with her experience, people, and vision, she could transfer the New York City salon's look and feel to the Mid-Atlantic.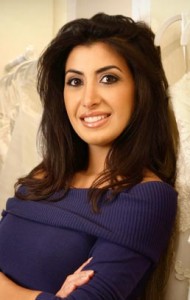 Carine's designs provide wedding gown expertise and tailors bridal fashion to a body type, personality and destination.
When Carine shared her idea with designers as Angel Sanchez, Kenneth Pool, Mellissa Sweet and Reem Acra they invigorated her greatly. And now, over 100 best dresses from Carine's favorite designers are available at the Georgetown boutique.
Carine's Bridal Atelier's mission is to provide brides with non-equating great service and a customized experience.