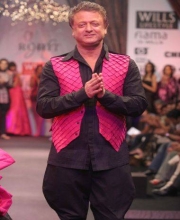 &nbsp&nbsp&nbsp4.9&nbsp&nbsp&nbsp17 Rating(s)
&nbsp&nbsp&nbsp
Stats
| | | |
| --- | --- | --- |
| Designer Name | : | Rohit Bal |

Designer Specialty
:

Fame rests lightly but with certainly on Rohit Bal,had successful stand alone fashion shows in all the major cities.He has just had an extremely successful show in Paris during the Paris Fashion Week Pret-e-porter fall winter 2001-2002.
He was awarded the designer of the year at the I. F. A. Fashion awards last year. He was also awarded the best designer of the year at the Kingfisher Fashion achievement awards 2001.The most celebrated designer in the country today.
Social Media Links
Add New comment
Navigation
Quick Search
Location