"I like blowing people's minds. It's a buzz. Like a fix, for 20 minutes. I like the spontaneity of doing it there and then". - Alexander McQueen

Lee Alexander McQueen the legendary was born on 17 March 1969 in a family of a taxi driver. It was in his young age, from when he was fascinated towards designing and started drawing from the age of 3 and finally announced his intensions to his parents and started designing cloths for his 3 sisters. Later he was known for his in depth knowledge in tailoring. In 1990 he joined Central Saint Martin's College to study for an MA in fashion design, and two years later the late fashion stylist Isabella Blow helped him initiate his career as a designer, launching his collection.
| | |
| --- | --- |
| His tendency was to juxtapose strength with fragility in his collections, as well as the emotional power and raw energy of his provocative fashion shows. Not for nothing was Alexander know as the 'the hooligan of English fashion'. The blazing British fashion designer crossed the boundaries and made an attempt to be unique in every show he did with his ingenious thoughts on one side and the themes used such as death, masochism and violence on the other end, leaving a message behind. | |
So there was the 1995 show entitled 'Highland Rape' which featured torn bodices hanging from the models' skirts and saw him accused of misogyny - Alexander stated "Everything I've done since then was for the purpose of making women look stronger, not naive," he was quoted in The Independent Fashion Magazine in 2000, "models are there to showcase what I'm about, nothing else. It's nothing to do with misogyny." The show introduced the "Bumster" trousers and immediately made him one of the most talked about faces in the industry.
| | |
| --- | --- |
| | |
| | |
| --- | --- |
| The president of LVMH , Bernard Arnault, controversially appointed McQueen as John Galliano's successor at Givenchy in 1996. A defiant nature saw him quoted as saying the founder of the famous house was "irrelevant". Alexander stayed with the Givenchy house until March 2001 then as it was constraining his creativity he ended the contract - continuing to create challenging collections, including one featuring car-robots spraying paint over white cotton dresses, and double amputee model Aimee Mullins striding down the catwalk on intricately carved wooden legs. | |
| | |
| --- | --- |
| McQueen was known for his lavish, unconventional runway shows: a recreation of a shipwreck for his spring 2003 collection; spring 2005's human chess game; and his fall 2006 show "Widows of Culloden," which featured a life-sized hologram of supermodel Kate moss dressed in yards of rippling fabric. McQueen also became known for using skulls in his designs. A scarf bearing the motif became a celebrity must-have and was copied around the world. | |
McQueen became one of the first designers to use Indian models in London. In 2005, McQueen collaborated with puma to create a special line of trainers for the shoe brand. When he always sold his garments under the brand McQueen, in 2006 he launched McQ, a younger, more renegade lower priced line for men and women.

By the end of 2007, Alexander McQueen had boutiques in London, New York, Los Angeles, Milan and Las Vegas. It was in 2010 spring summer collection when the models refused to wear his shoes as they looked very dangerous with 10 inch heel they're a tad crazy. Still he successfully ended the show.

McQueen's death was announced on the afternoon of 11 February 2010. He was found hanged that morning in his wardrobe by his housekeeper at his home on Green Street, London.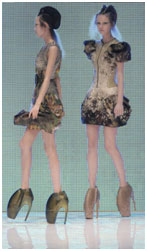 | | |
| --- | --- |
| | His death shocked a lot of people. Tribute was paid to him later by a lot of celebrities including those who were always spotted dressed in his collection, including lady gaga, Kate moss. His business is now taken over by his long-term assistant "Sarah Burton". Who is incredibly performing and coming up with her new collections inspired with Alexander Mc queen's thoughts. Today he holds a great stand and contribution for making London the fashion capital of the world 2011. Alexander always created "Each piece as a unique so was he". A legend to the fashion industry and will always be remembered for his creative inspirations he portrayed in every show bother less about others opinion for his performance. |