Indian fashion industry has whirled. The Indian fashion was always considered to be orthodox as compared to any other part of the world. Cause being a country with various cultures. Here people of diverse religions used to dress up unlike. But the moving world of fashion has shaken these roots of India. Here we shall see a few spin undergone in this industry.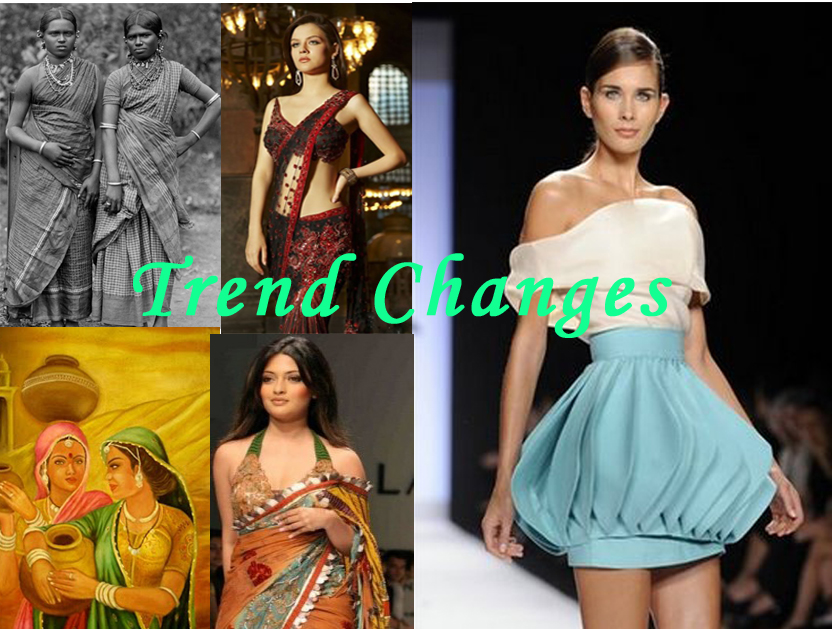 Sari the 1st invasion worn by women initially in cotton fabric on a regular basis has become a party wear outfit for ladies in the 20th century. Which they prefer wearing for fashion and show off. It is worn in any other fabric except cotton for parties. But yeah, there are people who still follow the olden traditions.


Blouses were plain and basic mostly with sleeves, today are worn in form of tubes halters, sleeveless and rare cases with sleeves by the fashion forwards..


Dhoti worn by men on daily basis in earlier times is used as night wear attire today. Except in villages and down south.


It started with sari and has transformed to a skirt today. And the heights of fashion craze are we can even see men wearing skirts on the run way, which indicated the future trends.


Dupta which was worn as a must by women with salwaar kameez has been modified in purpose and structure and renamed as "stole". The salwaar kameez are modified to ponchos.





The turban which was the identity of royal men in olden days is worn for fashion and styling by both men/women today.


Jeans/trousers are being used as the daily wear attire. It comfy and women like to dress more like men today.


The big bun hair style is the latest trend. Lades in olden time's maintained long thick hair as a symbol of beauty for a lady and made hair styles like big bun, puffed up front. Today fashion forwards have no hair so they add additional bun on their head to make the big bun hair style. True fashion followers.


Bindi the identity for married women is used by all as it look smart with Indian attire. It's not only put on your forehead; girls even put small bindi near eyes for style.


To motivate these up gradations we have school and colleges which teach fashion to the students. Where it was only tailored garments worn ages ago today we have designers coming up. These learning's teach them the culture from around the world which has changed our Indian culture entirely.


Earlier the sophisticated class /rich people could only afford fashion and they show casted their royalty in big gatherings. When lately we see students doing fashion parade on the roads, at college times and parties of course.


Fashion show started taking place held by individual designers and today we have it as a competition level with the names of Lakme India Fashion Week and Wills Lifestyle India Fashion Week.
This is India today. Where fashion is life for all. Those who do not move along are considered outdated, so move on with the rising India. History repeats, fashion spins continuously. The trend of 1940s is latest in vogue. It's just a new look for the same style and is called as "fashion".